BO HUFF WAS ONE OF THE "Lifers" Chronicled in Alan Mayes' book "Old School Customs". His travels moved him from places like Arkansas and California to his long-running base in Utah.
Bo's craftsmanship came through in every car he put on the road and, while we were in Salina for the 29th Annual KKOA Lead Sled Spectacular, Bo, Alan Mayes and, myself, spent some time together looking at Rods & Customs, chowin' down lunch, and talking about some of the cool machines that Bo had turned out.
Bo put the original version of Alan's personal '61 Pontiac together a few year's back and, not to be outdone, Alan's boss (Geno DiPol , Publisher: OSR/CKD), picked out a '49 Merc for Bo to hammer on. Which would be cool in and of itself, BUT this Merc came completely equipped with an extra set of doors: making for a Herculean-task of a Chop !
But Bo was more than up to the challenge, and cranked-out a true stunner that was labeled "Dixie DeLuxe". Bo did the body & paint, Bo's son, Junior, did the flames, scallops, and pinstriping...just as he had done on Alan's '61 Poncho at that time, Doug Corson did the outa-site interior (complete with a Rebel-Flagged headliner), and the car turns heads wherever it's shown.
Keeping all of that in mind, the subject of putting this '49 4-Door together was one of the things that I wanted to talk to Bo about. SO, Bo gave me the scoop on it just shortly before the OSR Issue hit the stands. (That's Bo & Geno's Merc on the Cover of OSR #36 you see at the top of the page !)
BO WAS A GOOD FRIEND, easy to talk to, knew how to get his info out, and was just a fun guy to hang with for the weekend. This Interview was done about a year before Bo's health issues began, and he was looking & feeling just great. Bo & I talked about every week or so after that, and got together for many Interviews through the years. Bo was one of the "Good Guys" and he will truly be missed. JK
( NOTE: For more on Bo and Geno's "Dixie DeLuxe" make sure you check-out OSR #36 (Nov. 2009). The action starts on Page 12 ! )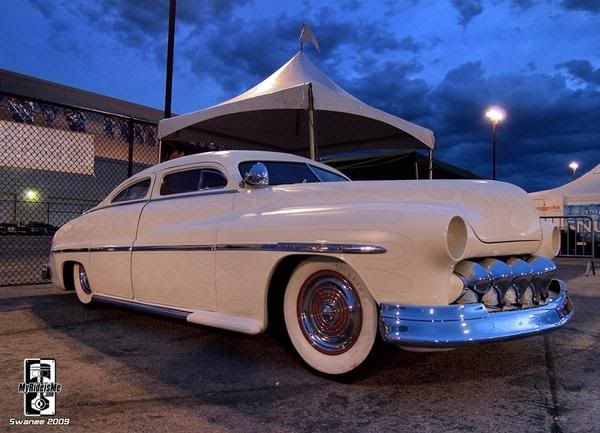 ___________________________________________________________________
SPECIAL NOTE:
BO HUFF WAS A GREAT FRIEND, and was one of the nicest, most talented builder's to ever light-up a torch. He went through a lot with many health problems the last few years of his life, and, sadly, passed away on August 4th, 2015.
We usually talked to each other every week or so, and, even during his illness, his spirit and desire to keep cranking out great customs still ignited him to not only want to "raise the bar", but to "set the bar" for others to follow.
I'm so glad that we were able to do all of the Interviews that we did during the year's, because now Bo's great stories about his life, his cars, and his passion for everything to do with Rods & Customs, can be heard right here on the HOF Legends Site for all to learn from and enjoy !
R.I.P., my friend. Like you always said, we were like "family".
JK
___________________________________________________________________
FOR MORE INFO ON BO...just go to his Facebook page, and also, his Website: http://shopbohuffcustoms.com/
NOTE: All photos/images used on this page are trademark, and/or, copyright of their respective owners...with sincere thanks.